The RIGHT Talent Wins: The 4 "Must-Do's" To Find, Hire & Engage Your A-Team in 2022
STEP 1:

Watch the webinar and be ready to learn from the best, we had an incredible session with Chris Mursau! Here's the replay so you don't miss out.
STEP 2:

You may have some questions right now, book a FREE 30-minute call here with one of our growth strategists and explore how Topgrading can be implemented in your business.
P.S.

Scroll down to get to know all the benefits you can get with Topgrading!
Better Candidates
Eliminate inefficiencies by reducing screening time and improving the quality of your talent pool
Great Hires
Get the secrets for identifying top-performing candidates who also fit your company culture
Superior Performance
Feel confident you'll see an ROI on your hiring investment.
Companies Already Building Their Dream Teams With Topgrading:







Get on the Path to Peak Team and Company Performance
In just 7 weeks!
The fact is: your organization is only as strong as its people. Mis-hires cost you millions (that's not an exaggeration) in dollars and wasted hours. If you want to start scaling up rapidly and without drama, you need every person on your team to be a high-performer — not only your leadership and management.
Dr. Brad Smart and his team of master practitioners have come back together with Growth Institute to completely update and remaster your Topgrading Master Business Course experience - addressing the biggest hiring and engagement challenges of TODAY!
You will learn every facet of the proven and timeless Topgrading methodology — regarded as the most effective hiring method on the planet — while digging in on the most pressing talent questions of 2022 in your 7 LIVE coaching sessions.
This Togpgrading Master Business Course has been painstakingly redesigned to help you make all the right decisions in your search for the best people for the key roles (at every level) in your organization.
READY TO GET STARTED?
Download the course outline!
Curious about the course objectives?
Want to know what each major section of Topgrading focuses on? Get a sneak peek.
So what's changed?
When it comes to hiring ... nothing.
You still need to find, attract, hire and retain great people.
Which is why you need this effective framework that is proven to 3x your chances of finding your ideal A-Players every time.
Topgrading has been a trusted partner to CEOs and Human Resources executives for more than 40 years.
At the same time...everything has changed.
The rules to finding, attracting, hiring, and retaining great people are evolving quickly and it is hard to know if you're really getting the RIGHT people in the door.
Which is why our Topgrading Master Business Course has gotten an upgrade!
And over the next 7 weeks, you will be taken through a process of coaching, revision, and implementation that will help you craft and deploy a role-design and recruitment process that will work for you in 2022.
All of it with the guidance of an all-star team of Topgrading Master Practitioners, including Dr. Brad Smart himself.
Ready for a deeper look?
What You'll Accomplish In 7 Weeks Of The Topgrading Program
Imagine using a proven strategy that teaches you to...

find your ideal talent pool and find top performers that fit with your culture

measure your hiring and promoting success



builds a positive and engaging work environment for your employees

quickly gets you on the road to running a rapidly growing and highly successful company.

BONUS: find the right compensation packages for your A-team with a brand new learning suite from Verne Harnish
Discover exactly what you need to do to unlock incredible growth by Topgrading your entire team!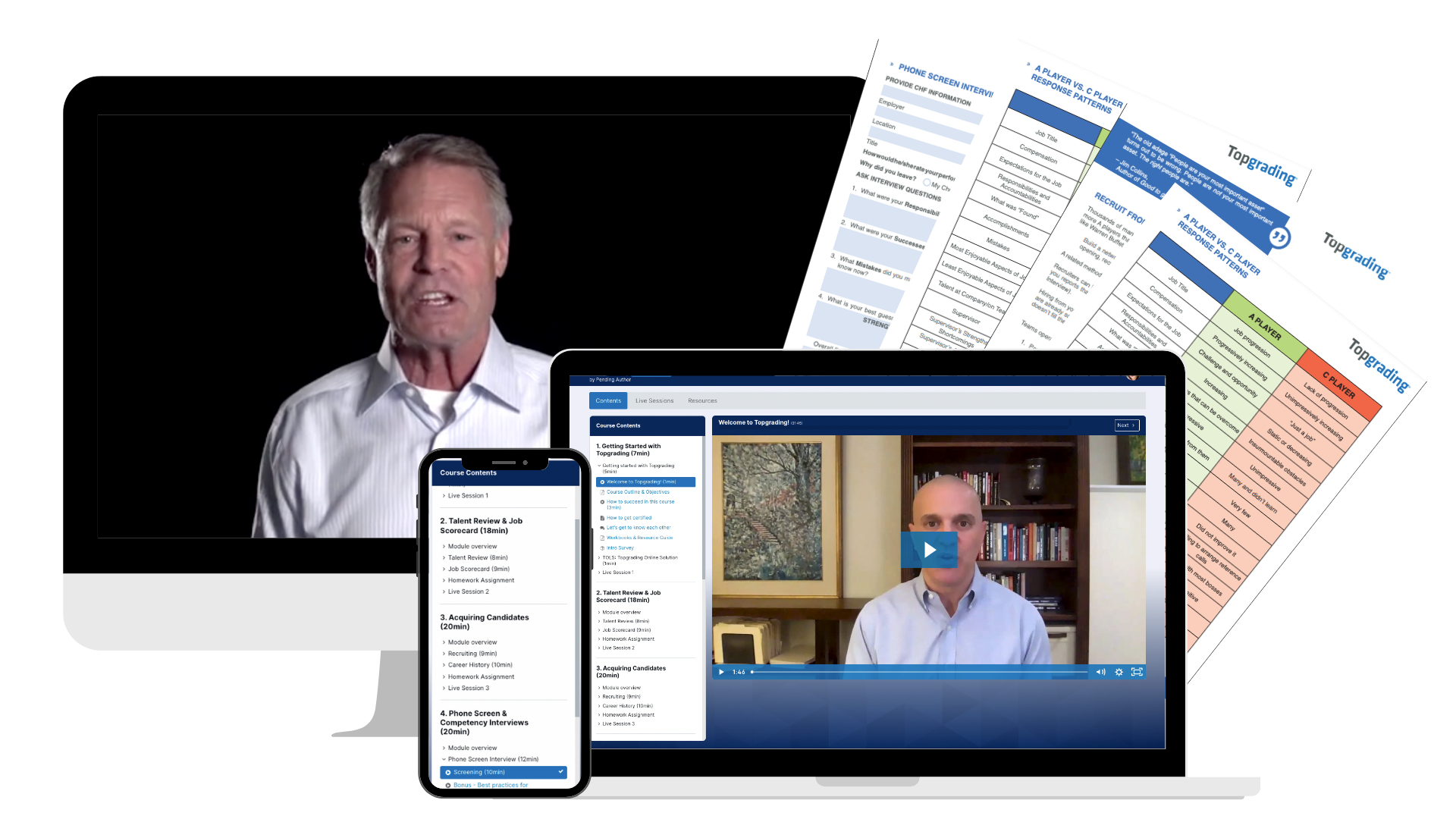 The Power of the Growth Institute Community
55,000
+
Leaders

11,000
+
Companies

70
+
Countries

You already know that it takes more than a book or a few tools to scale your business
You also need to apply the information to your industry and your specific challenges. That's why we created the 360 Hybrid Learning Model and built it into this course experience. It's the most comprehensive, immersive program available for executives and business leaders who want to apply Topgrading principles to their companies.

There are four elements that are essential to move from incremental growth (or no growth at all) to scaling: a proven framework, insight from industry leaders, peer support, and professional mentoring.
This course comes with the whole package!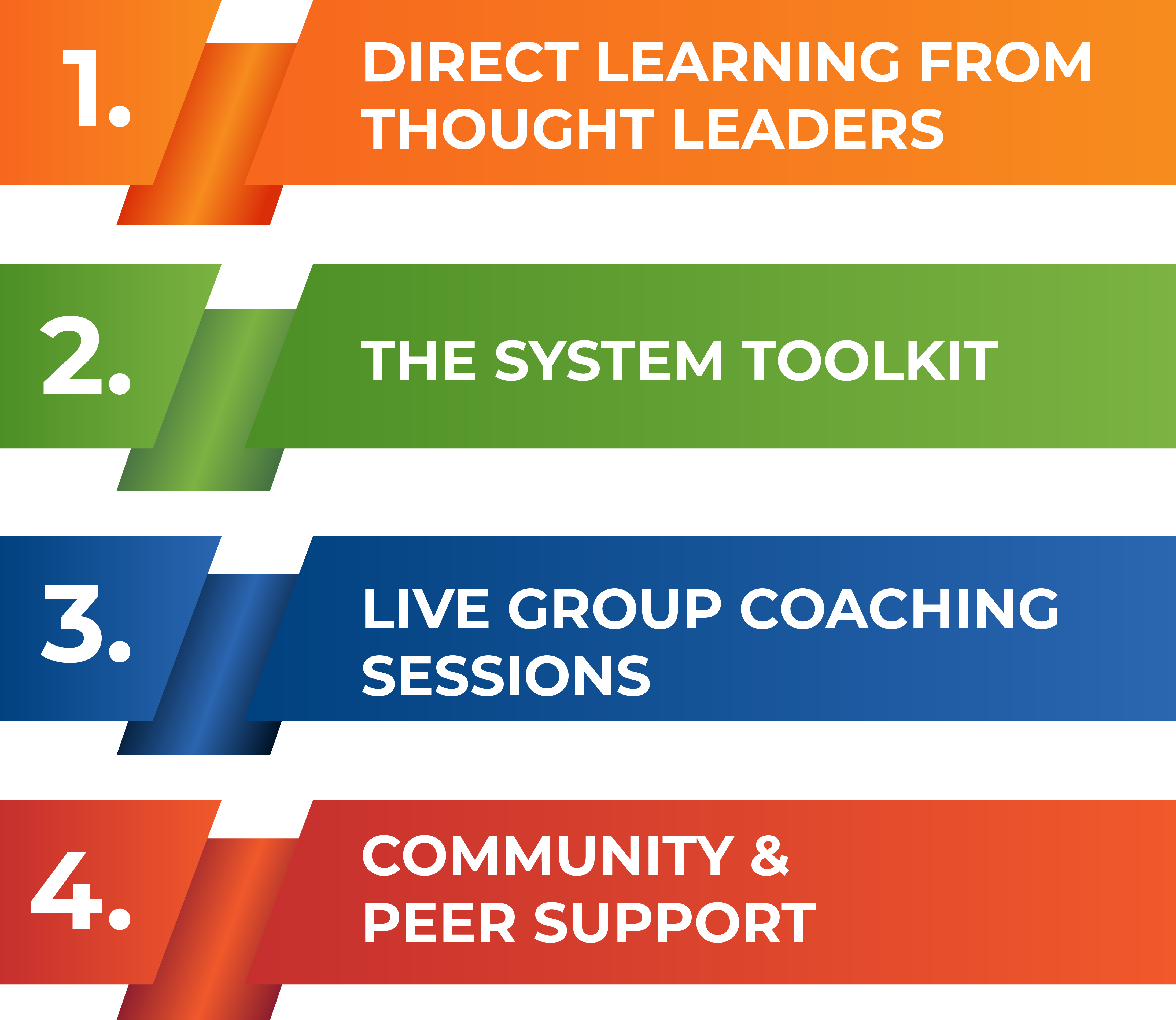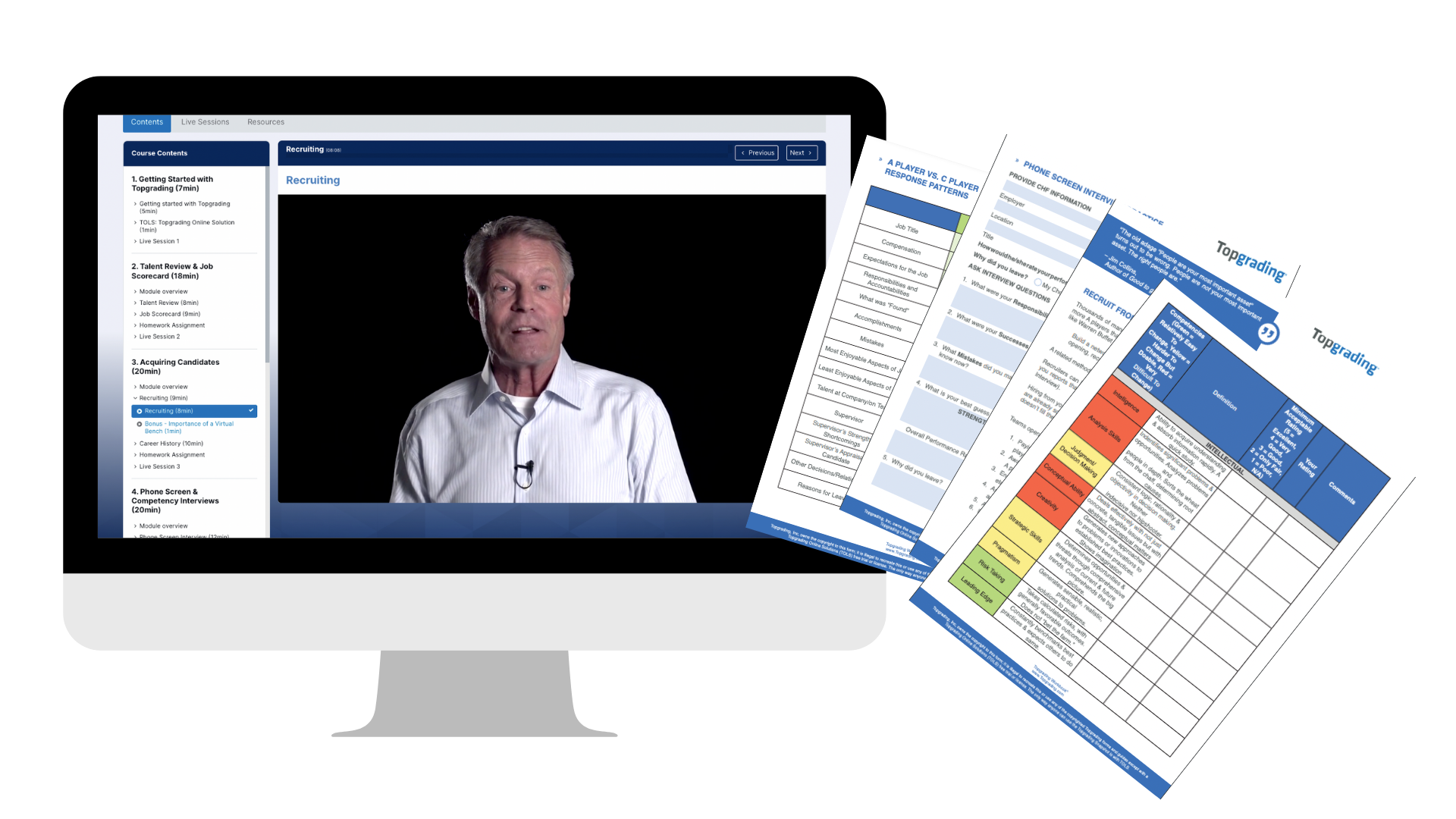 Who Is Topgrading For?
This in-depth learning and implementation experience is for
team leaders, CEOs, and hiring managers who

are dead serious about:

Developing an excellent hiring strategy that consistently delivers a 90% success rate for finding, hiring, and retaining Higher Performers

Core VALUES and purpose are alive in the organization.

Healthy communication RHYTHMS.

ACCOUNTABILITY and goals are met.


The company plans and PERFORMANCE is transparent.
There are three options to get yourself (and your team) enrolled in Topgrading
Not sure which option to choose?
Let us help!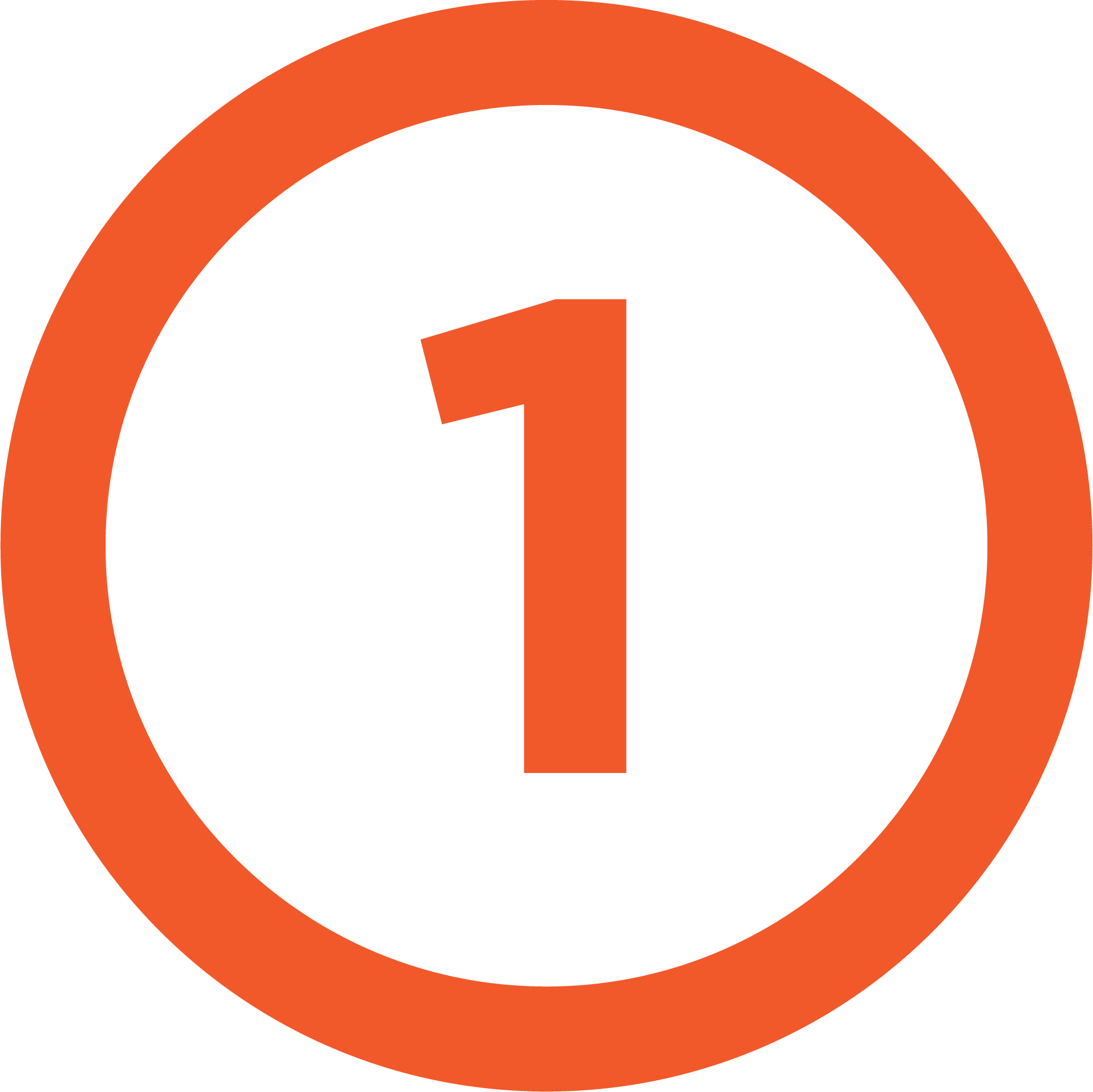 Book a Call With Our Experts
Talk to a growth strategist to explore this course, get all your questions answered, and choose the right package for you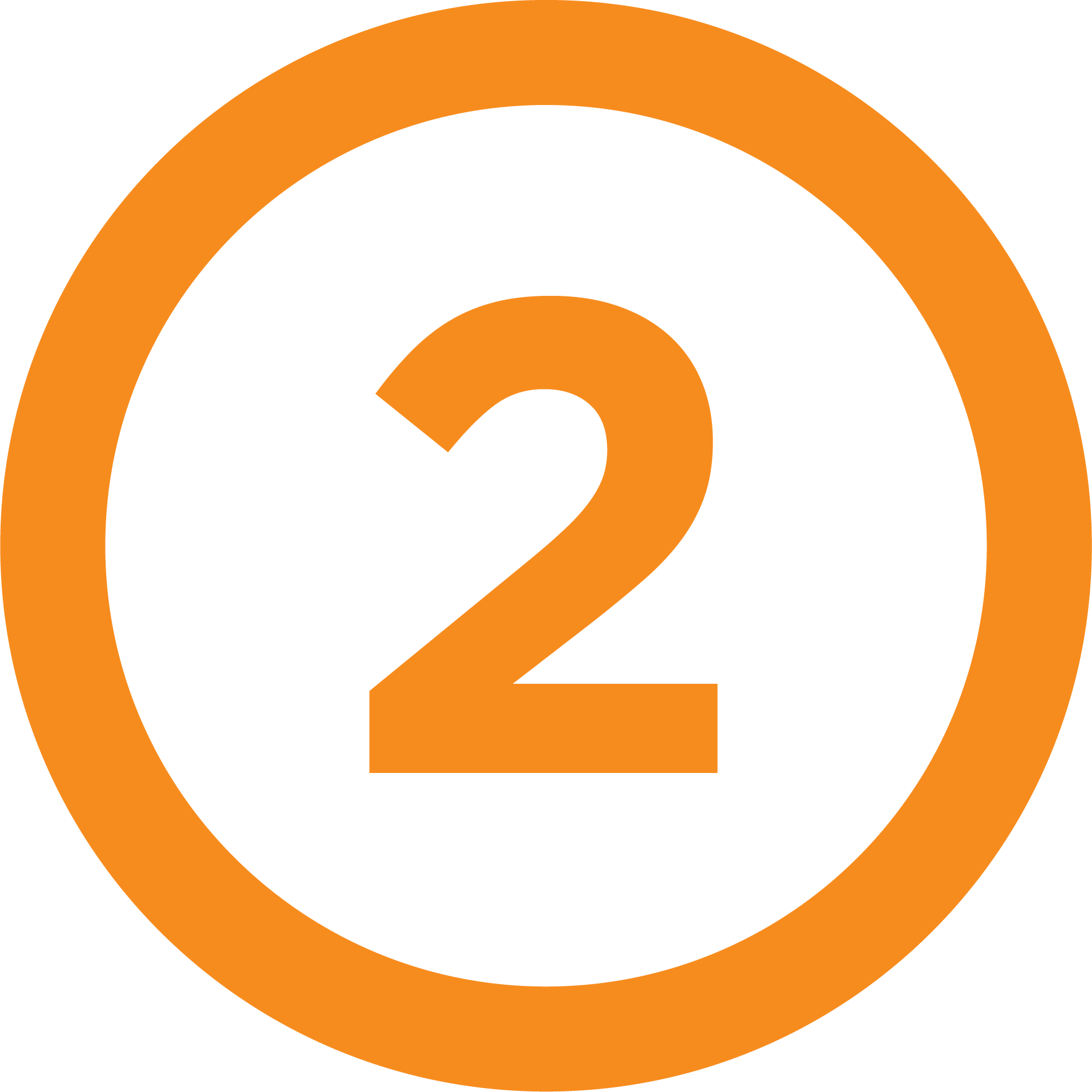 Create Your Success Blueprint
Jump in (risk-free)and begin your course experience with full access to all videos, live sessions with an expert coach, and a community of your peers at your back!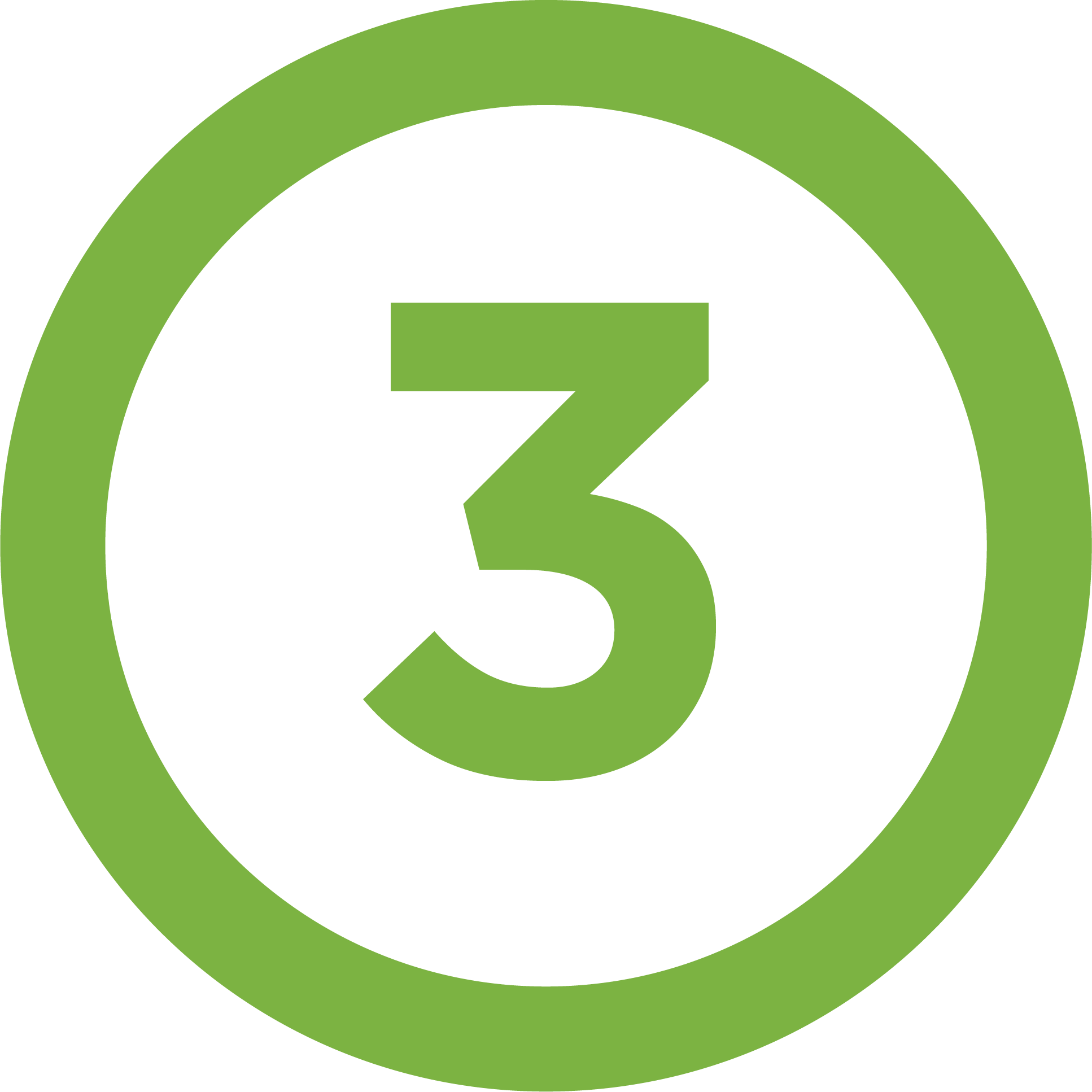 Scale Impact & Reduce Drama
See accelerated growth with your team of A-Players who are mow fully ready and skilled to scale.
Testimonials
What Growth Institute leaders are saying about Topgrading?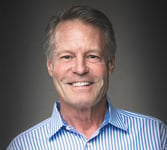 Dr. Brad Smart
Creator of Topgrading
Brad completed his doctorate in Industrial Psychology at
Purdue University, entered consulting, and since the 1970s has been in private practice as President and CEO of his own company, now called Topgrading, Inc., based in the Chicago area.

Brad is frequently acknowledged to be the world's foremost expert on hiring. The company consults with many leading companies and hundreds of small and growth companies.

He has conducted in-depth interviews with over 6,500 executives. His work has resulted in authoring seven books and videos, including Topgrading 3rd Edition: The Proven Hiring And Promoting Method That Turbocharges Company Performance; The Smart Interviewer: Tools and Techniques for Hiring the Best; and the training series Topgrading Toolkit, featuring the 12 Topgrading hiring steps and demos of all the interviews.

He's also co-authored the following books: Topgrading for Sales: World-Class Methods to Interview, Hire, and Coach Top Sales Representatives, with Greg Alexander; and Smart Parenting: How to Raise Happy, Can-Do Kids, with Dr. Kate Mursau.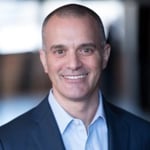 Chris Mursau
President of Topgrading
Chris has been consulting and teaching organizations and individual managers how to pack their teams with A-Players since 2001.
He has conducted over 2,500 in-depth Topgrading assessments for internal and external candidates, helped hundreds of people achieve their A potential, and trained thousands of people in the methodologies proven to improve their success in hiring high performers.
His client list is broad and diverse, including some Fortune 500 companies, small to medium-sized businesses, and non-profit organizations.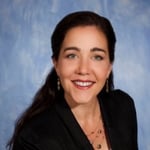 Michelle LaVallee
International Talent Advisor & Certified Topgrading Coach
Focus, strategic thinking, and valuing talent are the cornerstones of Michelle LaVallee's coaching practice.
As a Certified Topgrading Coach & International Talent Advisor, Michelle supports global executives to improve their ability to spot and keep talent, while progressing towards the placement of 90% A-Players across their organizations.
With over 20 years of international experience, across large organizations and start-ups, Michelle is a multi-cultural operational expert, masterful in reengineering organizations for their own strategic fulfillment. Her natural warmth puts people at ease, strengthens their desire to embrace new practices, and influences stakeholders to build goodwill while aligning their teams for positive change.
A Topgrading Champion since 2006, she has supported dozens of international companies to achieve at least 85% A Players in the midst of rapid growth and has conducted over 1,600 Topgrading Interviews across multiple industries in China, Hong Kong, Canada, Dubai, the United States, and the United
Kingdom. Michelle's Topgrading workshops and interviews help organizations save hundreds of thousands of dollars when
avoiding the cost of "mis-hires", and improve internal abilities to recognize talent.
An adventurer with a love for the outdoors,
Michelle spends her spare time cultivating a small farm in southern Chile, where she
has lived since 2011.
In this program, you'll have access to…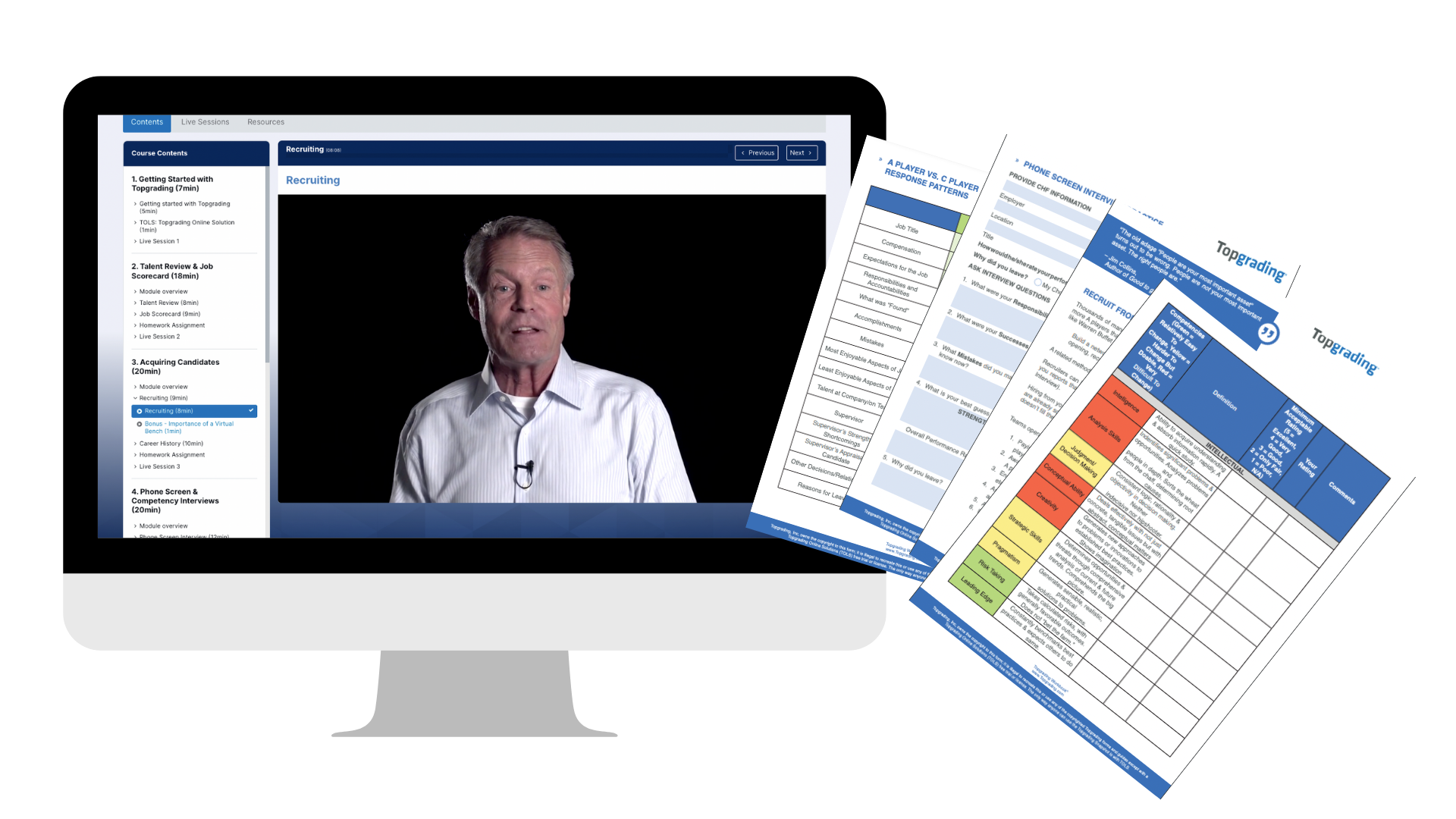 ✔ 7 Weekly Trainings with 1-year access!
You'll learn Dr. Brad Smart's full Topgrading framework -- a.k.a. the silver bullet that will 3x your hiring accuracy and ensure that with every new hire, you're building your dream team!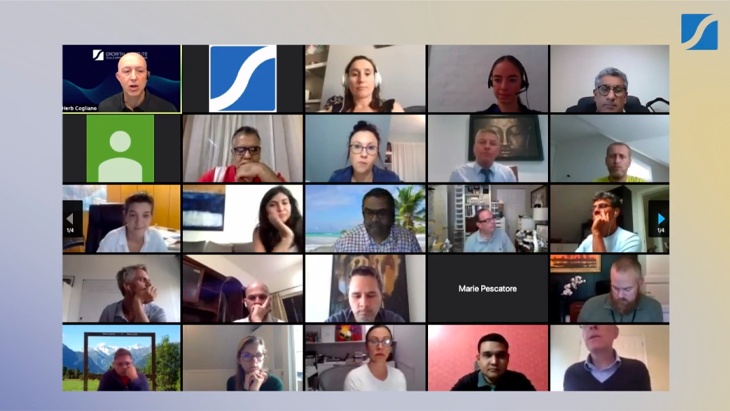 ✔ 7 live coaching sessions with 1-year access to the recordings!

Get expert help for every stage of your hiring journey and address all your most pressing talent challenges with your coach, Chis Mursau, President of Topgrading. Chris will deepen your understanding of the material and spend dedicated time coaching and addressing questions each week.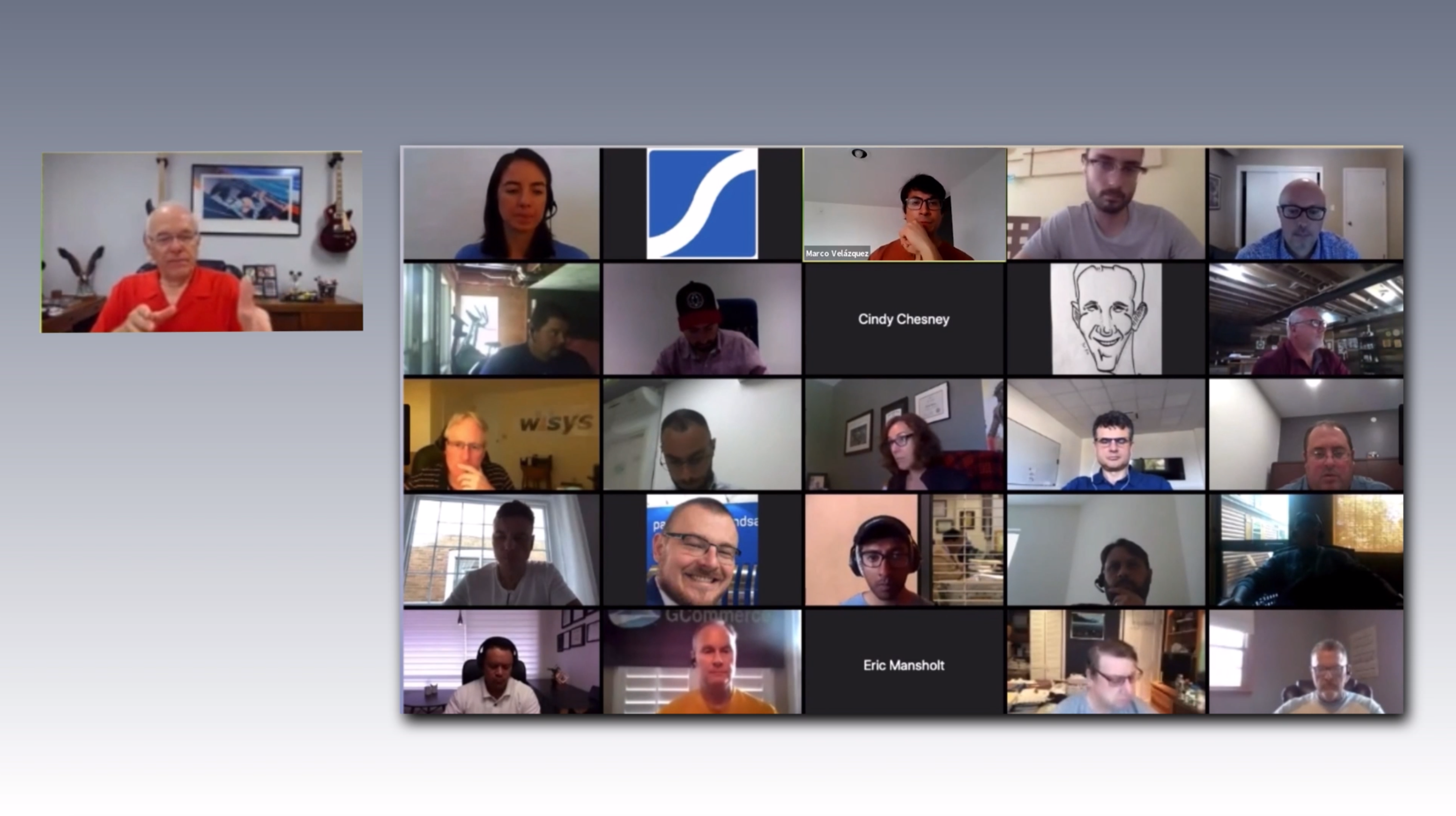 ✔ 24/7 community and peer support
Learn with and from up to 50 other teams full of seasoned, successful CEO, founders, and business leaders. Become an insider by joining business champions like yourself to resolve your top challenges.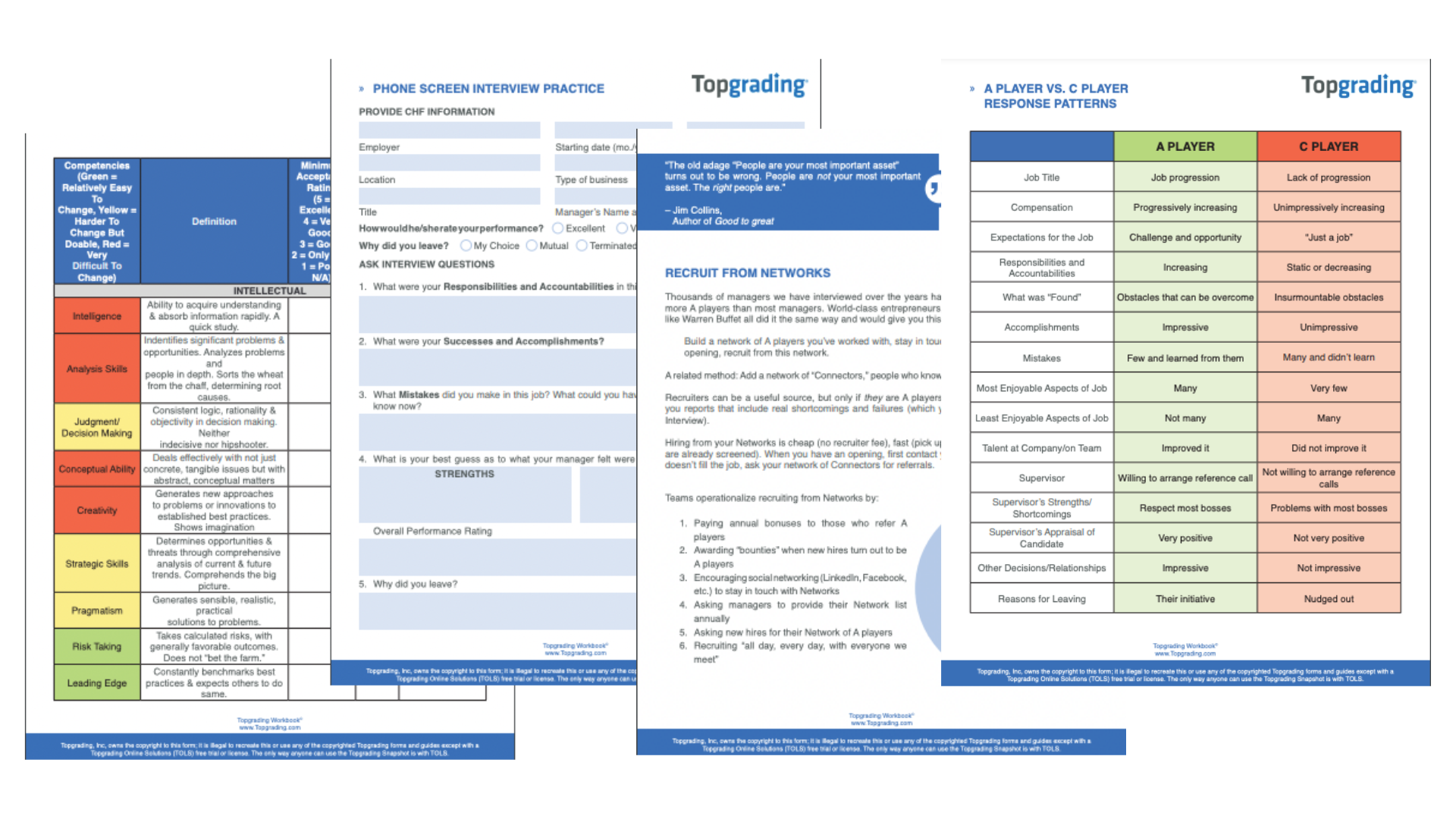 ✔ Apply Your Learnings With The System Toolkit
You'll receive many tools to speed along your implementation quickly and easily. These world-class hiring tools and checklists get you - and your team - on track to build a foolproof hiring process – almost like a step-by-step blueprint.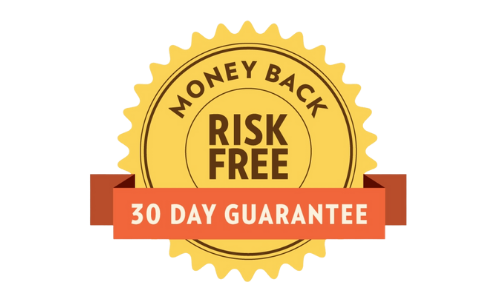 OUR 100% GUARANTEE
We want you to be our next testimonial...so let us take the risk.

Here's our commitment to you:

Access the program, join our coaches and online community for 30 days, and implement new strategies in your business.

If you're doing the work and not seeing results, let us know and we'll give you a no-questions-asked refund.

We've worked with over 60,000 CEOs, founders, and business leaders...and we know our program works.

Scaling A Team of A-Players Can Be Hard
Especially if you don't have the right people in place to help you.
Hiring is a strategic business differentiator.
We get it – there are a lot of things to consider when designing your organization and finding the RIGHT people to build your dream team.
Joining our 7-week Topgrading program will equip your leaders with the processes, tools, training, and coaching they need to fill
open positions with people who will excel.
If you are a high-growth company looking to staff your team of A-Players and scale, book a call!