Closing The Sale: How to overcome the 3 key challenges of complex sales
Watch the replay and unlock the secrets to sealing more deals in complex sales and if you want to know more about Jeff Thull and his Master Business Course, you can download the course outline below.
Class Starts October 11th, 2023.
Companies Using Jeff's Complex Sale Process





Commoditization of your high-value solutions?
Facing competitors with near-identical pitches?
Struggling to truly differentiate yourself?
Wasting resources on non-decisive leads?
Feeling like just another salesperson, not a trusted advisor?
Hearing a "no" at the 11th hour, after significant investment?
Constant price haggling, eroding your value proposition?
The modern sales environment isn't just about transactions. It's about partnerships, value, and trust. Miss these, and you're just another voice in the crowded marketplace.
Navigating these challenges can feel overwhelming. But imagine having a clear path to stand out and be recognized as the trusted advisor your clients are looking for?
READY TO GET STARTED?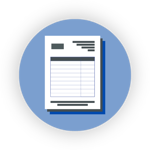 Download the course outline!
To align yourself with this course, you'll want to review the outline first.

With Mastering The Complex Sale Master Business Course,
you'll learn to:
Master The 4 Stages To Closing The Sale
Embrace A Robust Method To Effectively Close Real Business
Discover
Research and build a solid foundation on which to engage customer executives in trusting and mutually long-term relationships.
Diagnose
Guide your customer through a quality decision process, understanding their unique challenges and determining the cost of inaction.
Design
Collaborate with customers to co-create the optimal solution and quantify the value to be achieved, making your solution the compelling choice.
Deliver
Your customer now has enough information to reinforce their own decisions and accept your solution. Now you deliver on their expectation and verify with them the value is being achieved.


Mastering The Complex Sale Master Business Course isn't for everyone. It's tailor-made for those who are serious about elevating their sales game in high-stakes environments.
Here's who will benefit the most:

Sales Professionals: Whether you're just starting out or are an industry veteran, if you're navigating complex sales landscapes and want to close bigger deals with confidence, this is for you.

Business Executives: Leaders who are aiming to scale their company's growth through strategic sales methods, and who understand the value of long-term relationships over quick wins.

Entrepreneurs: If you're offering a high-value solution and find yourself facing tough competition with similar pitches, this course will help you differentiate and articulate your unique value.

Consultants & Advisors: Professionals who want to transition from being seen as 'service providers' to 'indispensable business partners', building stronger, more profitable relationships with their clients.
If you see yourself in any of these categories, then Mastering The Complex Sale Master Business Course is perfect for you.
We Get It -
Building a Powerful Sales Culture Can Be Hard
The Mastering the Complex Sales Methodology has helped thousands of companies unlock the true potential of their sales teams, boost performance and become industry leaders...
Here's what other leaders are saying about Mastering the Complex Sales
We Get the Challenge, navigating complex sales is no simple feat. Even top sales pros face the dilemma of their high-value solutions becoming commonplace. With every passing day, the problems get more tangled, and competition intensifies.
Your customers? Overwhelmed. Drowning in too-similar options, each loaded with risks and seeming promises that are often too good to be true. Enter Jeff Thull. Not just another sales coach; he's a leading expert in Complex Sales.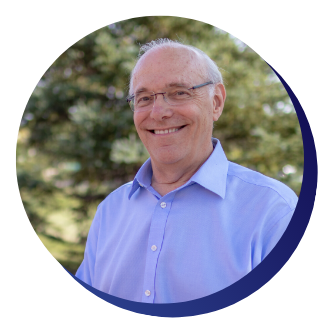 Meet Your Coach
Jeff Thull


The verified Grandmaster of the Complex Sale, Jeff Thull is a leading-edge strategist and valued advisor for executive teams of major companies and institutions worldwide.

He is the author of three best-selling books for orchestrating the strategy, process and execution of complex sales, including the highly-revised second edition of Mastering the Complex Sale.

As President and CEO of Prime Resource Group, Jeff has designed and implemented business transformation and professional development programs for major companies including Shell, 3M, Microsoft, Citicorp, IBM, as well as many fast track, start-up companies.

Jeff is also a compelling, entertaining and thought-provoking keynote speaker with a track record of over 3,500 keynotes and seminars delivered to corporations and professional associations worldwide.
Guarantee Your Results With Our Hybrid Method of Learning

Our unique approach leaves nothing to chance. We will help you break through your "plateaus" so you can grow and scale with less stress and less drama.
The 4-step integrated process that allows you to turn practice into results in real-time:

These 4 elements are essential to moving from incremental growth (or no growth at all) to scaling: a proven framework, insight from industry leaders, peer support, and professional mentoring. It's time for you to turn practice into results in real-time with our integrated, 4-step process.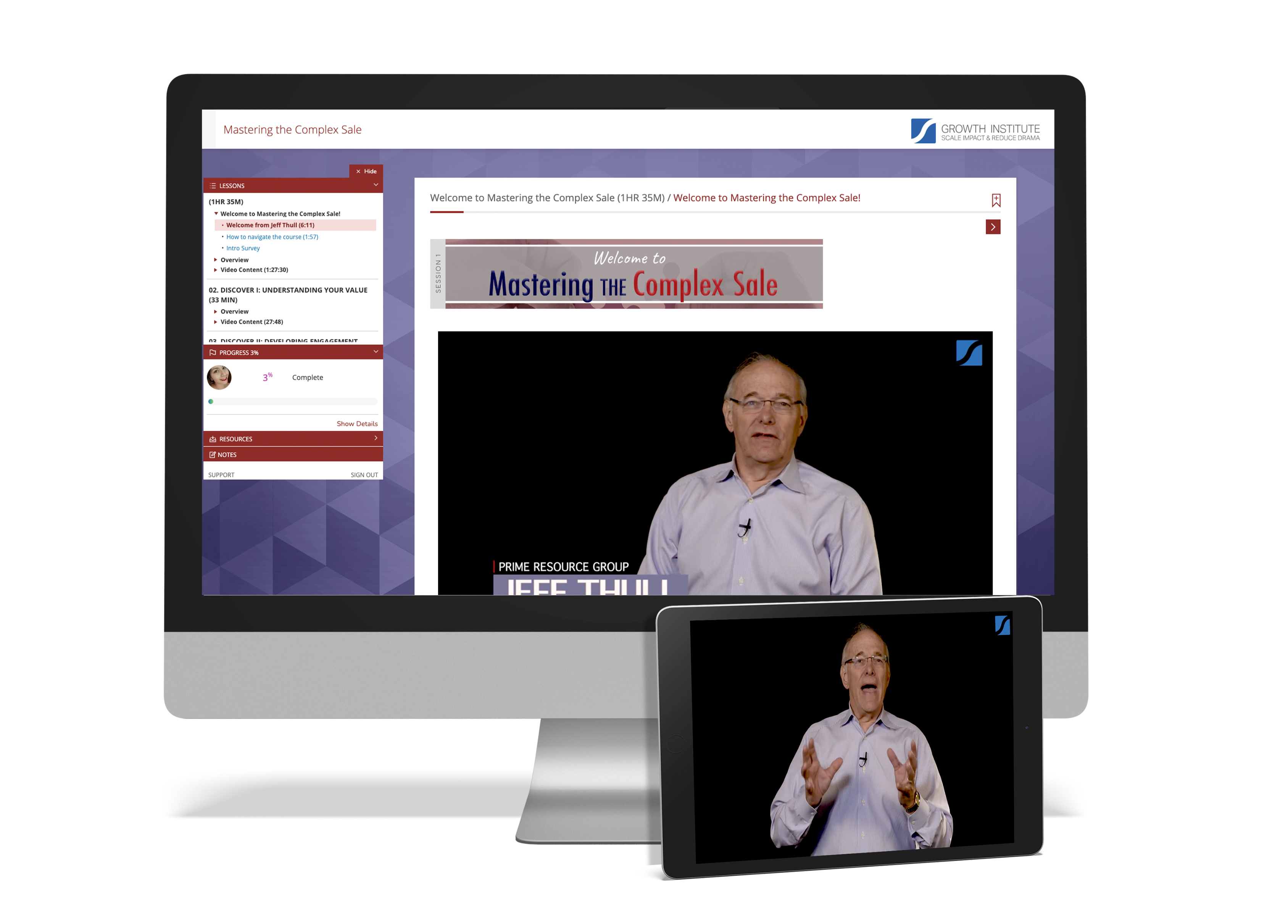 Direct Learning from Jeff Thull

Get cutting-edge strategies from experienced thought leaders— not just professionals who teach business theory. You get the learning directly from Jeff and avoid misinformation or a watered-down version.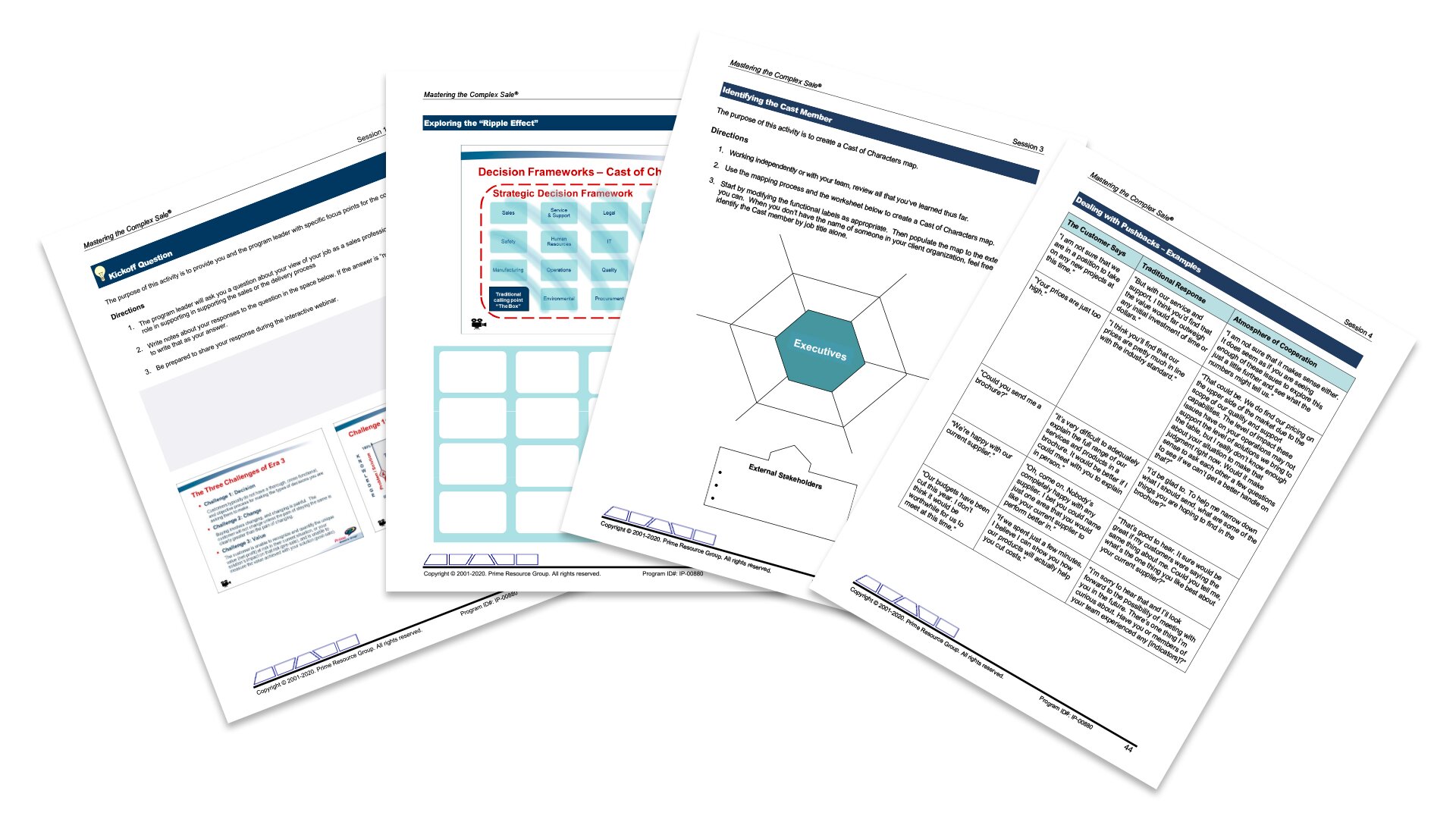 Build Your System Toolkit Step-by-Step

You will receive tools to speed along your implementation quickly and easily. These tools are your roadmap to give you direction, get on track, and help your team stay on track  easily, like a step-by-step blueprint. These tools will help drive action for the duration of our time working together.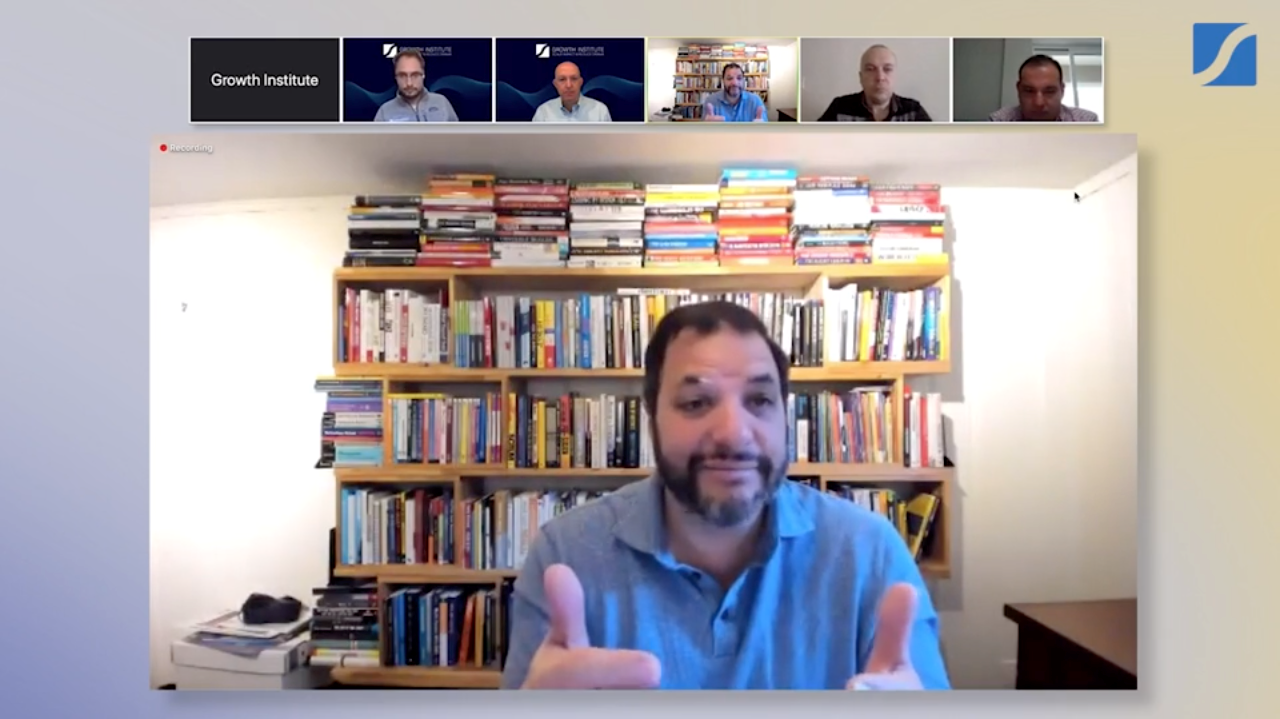 Weekly Live Group Coaching Sessions

Make a plan for exactly how to implement it. We don't leave you to plan on your own. You show up weekly for the group coaching sessions to get your specific questions answered and focus on the next steps for implementation. We'll show you what works so you don't fall back into bad habits.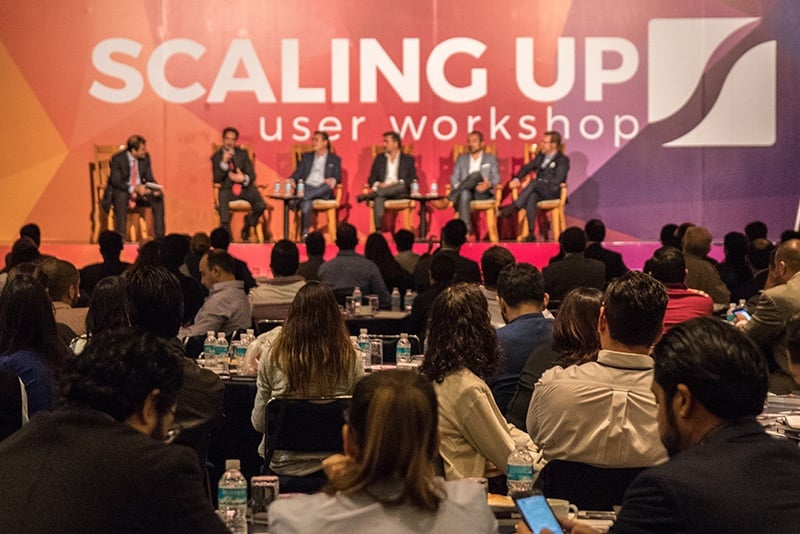 Community Networking, Masterminding & Peer Support

Our community is filled with other growth-minded leaders from companies around the world. Get the opportunity to connect and access a support system during the implementation process. The more you can collaborate with other like-minded peers at your level with similar business problems, issues, and opportunities, the more accelerated your learning and action become.


Pricing
Join Managing Cash, Profit & Value Master Business Course
Single Seat Plan
Replace outdated complex sales approaches and develop a powerful sales strategy
This Plan Includes:
8 core modules
The complete Mastering the Complex Sales toolkit
8 live group coaching calls
A global community of peers
Need More Seats?
Build a strong sales team and top executives to grow your business and outperform critical targets
This Plan Includes:
8 core modules
The complete Mastering the Complex Sales toolkit
8 live group coaching calls
A global community of peers
+5 Users
Plus access to 13 other coached implementation courses (adding new programs every quarter)
Access to 60+ additional business courses for your entire company to help upskill them in strategy, leadership, sales, finances, culture, and more!
Customized curriculum
Quarterly growth progress reporting



Schedule Your Meeting:

Dive deep into your current challenges during our consultative call, ensuring this course aligns perfectly with your objectives.
Tailor Your Course Plan:

Together, we'll design a roadmap that specifically addresses your challenges and goals.
Achieve Remarkable Results:

With a tailored plan in hand, immerse yourself in Jeff Thull's techniques and witness a transformative change in your sales approach and outcomes.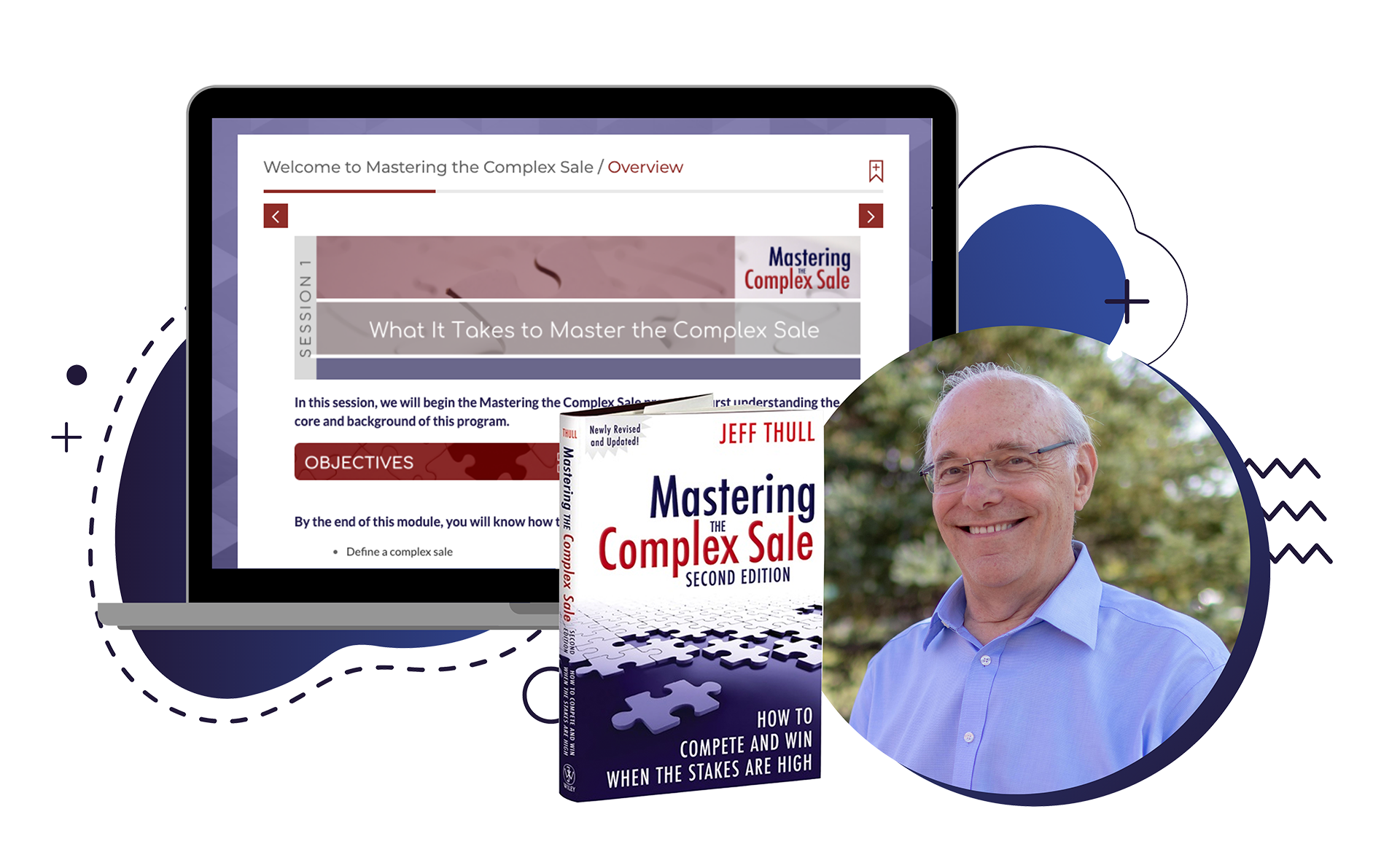 Discover a Better Way to Sell
Selling isn't just about making deals. It's about making the right deals, confidently and effectively. But with so many similar pitches out there, standing out is tough. You want to navigate the sales world with ease, stand out, and confidently secure those big deals.

That's where Jeff Thull comes in. With the "Mastering The Complex Sale Master Business Course," he doesn't just give you tips. He provides a clear, simple plan to improve your sales game. Are you ready to sell smarter, not harder?
Enroll now, and see how you can change the way you sell forever.
We remove every bit of risk with our
Scale Up or Go Home 100% Guarantee
Get access to the entire program, go through everything and use it in your business. And if at the end of going through the entire process for 30 days and 3 full live sessions, you decide it's not for you, let us know and we'll give you a full refund. No questions asked.
Give it a try and see for yourself how powerful this program can be for you, your team, and your business. You have all the freedom to gain with nothing to lose.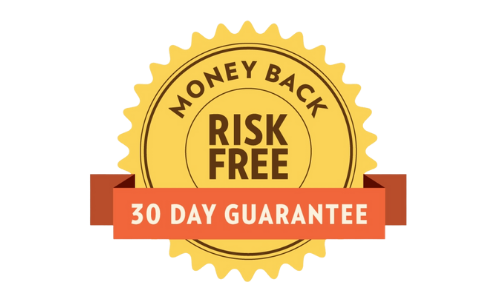 Frequently Asked Questions
How long will I be able to access my Master Business Course?
Those who purchase single and team packages will have unlimited access to all course materials, including live sessions recordings for 12 months.
MBD and MBD All Access members will have access for the lifetime of the membership.
What is your refund policy / money-back guarantee?
It's simple! 30-days or 3 live sessions. If at the end of that time period you're not 100% convinced that this course can deliver results for your business, we will refund the full course fee.
How do I cancel if I need to?
What can I do if I miss the live sessions with the coach or author of the class?
You can always dial in from wherever you are; there will be leaders joining from around the world. That's a reality and we want to accommodate it. You don't need to be camera-ready to participate in these live sessions. If you're 100% sure that you'll miss out on a session, just let us know ahead of time and submit any questions you have. All the live sessions are recorded. Once recorded, they're uploaded to your learning platform, Dojo, where you can find and revisit them at any time.
So if there are sessions you can't make, you can always watch the recording and then ask questions and get involved via the forums.
What is included in each Master Business Course?
Each course is uniquely designed and jam-packed with value and added value! You should find the specifics for this course on each unique information page.
Every course includes:
Recorded sessions with the thought leader and their teams of experts and raving fans
Live virtual coaching calls with the thought leader and their teams of experts
Robust Toolkits and resources designed JUST for the Growth Institute course (you won't see most of them anywhere else!)
A global community of peers learning and implementing alongside you
And a custom stack of added value, parallel learning opportunities, and more!
How are Master Business Courses different from other online courses?
We offer a unique learning experience, specially designed for busy leaders of growing businesses. There are 4 main elements of our 360 Hybrid learning experience that ensures that you see the change you want to see in your business throughout each course:
Direct learning from the experts - the creators, authors, researchers, and experts who crafted the methodologies and concepts shared in each course are the ones teaching it!
Robust systems toolkits - our course creators work directly with these amazing thought leaders to take their methodologies and turn them into an actionable and implementable curriculum that you and your teams can use right away in your business
Live Coaching - this is a BIG ONE. Deepen your knowledge of the concepts each with direct, live virtual access to your thought leader and their team of experts. Ask questions, get personalized advice, and…
Community and peer support - learn also from your peer's experiences, questions, and the advice they receive!
How much time does this take?
Roughly 3 hours a week for the duration of the course: 1 hour for watching the weekly video modules and 2 hours a week for coaching and implementing what you're learning alongside your team and classmates.
How can I bring my team members along?